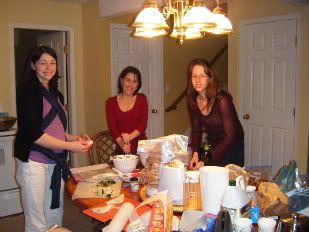 We had our February
Baba's
Night at Mira's home where we participated in our first ever Lenten Loaf Exchange!
We also made mushroom & spinach
phyllo
dough triangles, soup, and a few
lenten
patties.
I want to thank Mira for hosting this month's
Baba
Night and all the women who participated and help make all this wonderful food some of which will go towards the St Hermione's Outreach.
Here are the recipes of the different Lenten Loaves or Patties.
Here are Mira, Tasha & Charmaine working hard.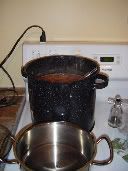 Red Lentil and Millet Burgers

(Thanks to Susan)

1/3 cup red lentils
1/2 cup millet
1 Tbsp canola oil
2 cups finely chopped scallions/onions
1/2 lb grated carrots (about 1 3/4 cups)
1 Tbsp vegetarian oyster sauce (substitute

hoisin

sauce)
1 Tbsp ketchup
1/4 cup sesame seeds, toasted & ground to coarse powder (I use ground almonds)
1 3/4 cup bread crumbs (I used

oatbran

, ground almonds & breadcrumbs)
salt

1. Bring red lentils & 1 1/4 cups water to a boil. Reduce heat and simmer, covered, until the lentils are tender, 10 - 15 minutes. (Their colour will turn pale and they will break easily when pressed between two fingers.)Remove from heat. With a slotted spoon remove the lentils from the pan, pressing out as much water as possible.
2. Bring millet and 1 cup of water to a boil in a separate pan. Reduce heat and simmer, covered until all water is absorbed and millet is tender, 10 to 15 minutes.
3. Heat the canola oil in a large skillet over moderate heat. Add the scallions/onions and cook for a few minutes or until they are wilted. Add carrots, oyster or

hoisin

sauce and ketchup. Cook, uncovered for about 5 minutes to blend the flavors, stirring often.
4. Mix lentils, millet and skillet contents. Use a hand-held blender or food processor to form smooth mix.
5. Add ground sesame seeds & 1 cup of bread crumbs. Season to taste with salt.
6. Mix with a large spoon or really get in there with your hands until all the ingredients are thoroughly combined.
7. Form into 3 inch patties or little finger-sized nuggets and coat with bread crumbs or ground almonds. They are delicate but should hold together. It is easier if you can let the mix sit in the fridge to get cool before you form the patties.
8. I bake my patties on a lightly greased pan at 375F until they are done, about 10-15 minutes on each side. They come out best if I use my pizza stone. Then I do not need any oil. Gentle turning these guys. You can broil for 5 - 7 minutes each side 3 to 5 inches from the heat. Or you can saute in oil over medium heat for a few minutes each side.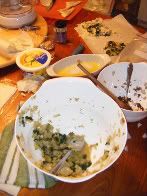 Patties - Legume - - Chickpea and Pumpkin Burgers
(
Thanks to Tasha)



600 grams / 1.3 pounds chickpeas, soaked, well drained (use 2 x 300 grams / 10.5 ounces cans if no soaked chickpeas available)
400 grams / 14 ounces pumpkin, cooked, drained, mashed
1 onion, finely diced
100 grams / 3.5 ounces red capsicum, seeded, finely diced
1 tablespoon

tahini


2 teaspoon finely chopped fresh ginger
1 teaspoon coriander
2 teaspoon cumin
1 teaspoon crushed garlic
1/2 cup chopped chives

Place chickpeas in a food processor and process until they resemble large breadcrumbs (avoid over processing so you can enjoy the taste and crunch). Place processed chickpeas in a bowl with vegetables,

tahini

and herbs. Mix well, then work the mixture together with your hands until it begins to stick together. Shape into burgers and refrigerate for at least 2 hours before cooking.
Lightly oil a frying pan and heat until very hot, cook burgers on both sides until brown.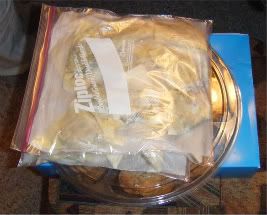 Mira's Lentil Loaf 2009

(Thanks to Mira)

1/2 cup nuts (I used mix)
2 TB oil for sauteing veggies
1 1/2 cups cooked veggies (I used asparagus, carrots, cauliflower & broccoli)
2 cups cooked lentils
1 cup cooked rice
1/4 - 1/2 cup rice milk
1 heaping TB

flaxseed

meal (you can grind flax seeds in coffee grinder)
salt & pepper (maybe 1/2 tsp each?)



Pre

heat oven to 350F.
Grind nuts into a course meal (I use a coffee grinder).
Saute veggies in oil until soft; mash with fork.
Add veggies and nuts to other ingredients in a bowl.
Mash everything together adding the rice milk, until you have a liquid to soft moist texture.
Bake until cooked through, about 45 minutes.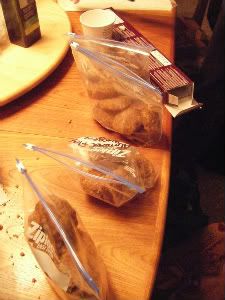 Almond

Flaxseed

Burgers (Thanks to Mandy)

2-3 Cloves Garlic
1 cup Almonds
1/2 cup Ground

Flaxseed


2 Tbsp Balsamic Vinegar
2 Tbsp Coconut Oil, Hemp Oil, or Olive Oil (or a blend)
Sea Salt to taste
A bit of red pepper (optional)

Blend everything together in a food processor.
Form patties by hand.
If they are too crumbly add a bit of water.

This is a raw vegan recipe it doesn't need to be cooked. If you would like them warm bake them at 300F till they are at the heat you desire.



Esau's Lil' Lenten Lentil Loaf

(Thanks to Charmaine)

3 cups cooked, drained Red Lentils
5 cups cooked, peeled rough mashed Yams
1/4 cup fresh grated Ginger
2 tsp Cinnamon
3/4 cup Orange Juice
1/2 cup Oat bran
3 Tbsp Brown Sugar
1/2 cup Coconut Flakes
1/2 chopped Pecans, plus garnish

Mash everything except the pecans together with a fork. Add more orange juice if it feels too dry. Then stir in pecans. Pour into 8'x8' square pan and bake at 350F for 45-50 minutes. This is a loaf in the looses sense of the term. Serve with warm coconut milk or drizzle with orange juice and honey.

For any type of Lenten Loaf I would suggest checking out T
he Magical Loaf Studio
where you can create your own Loaf (that's where I created mine).
The Magical Loaf Studio
is a creation of the
Vegan Lunch Box
which is a great place for vegan recipes!